News
9.20.2009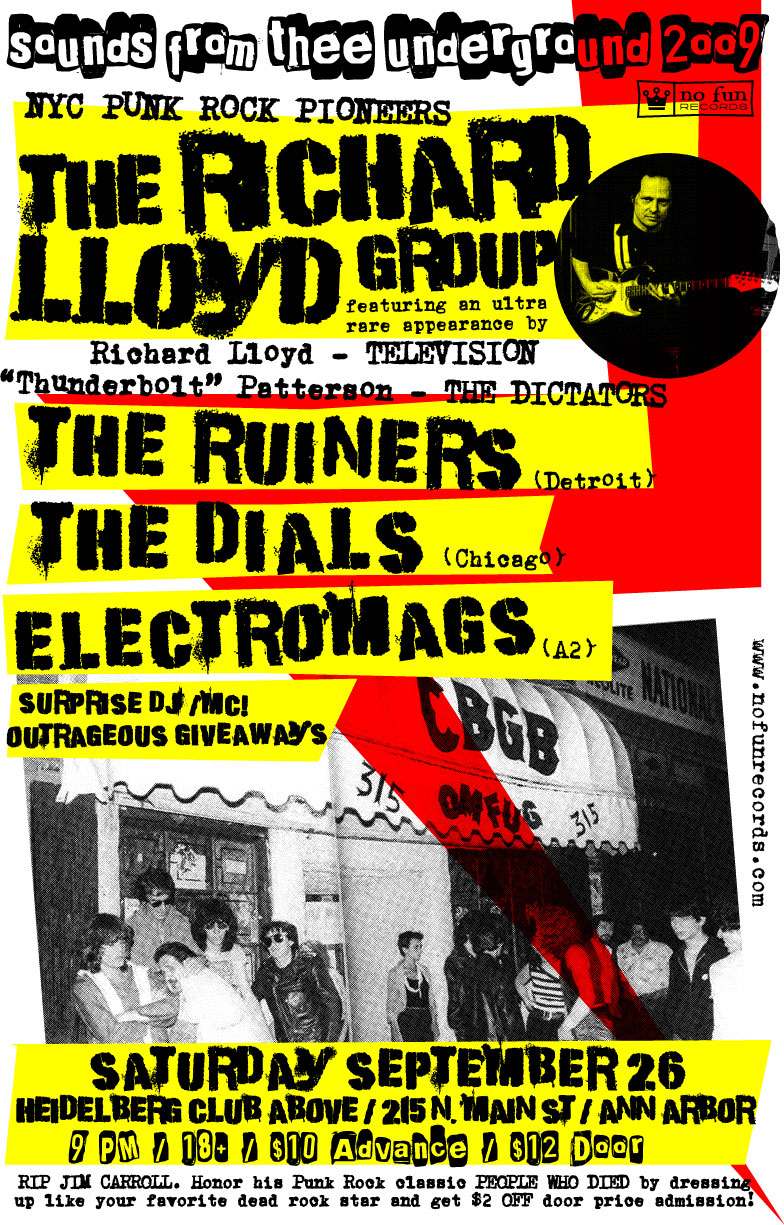 6.24.2009
Catch us and a bunch of new songs this summer... Friday, July 24th at the Double Door, w/ Wanton Looks and Sleepovers, and Friday, Aug 21st at House of Blues. We open for The B-52's! Is that salt I taste? Yes, because there are tears of joy rolling down my face.
Better tears than the wheels of a roller derby skate. The CHICAGO OUTFIT Roller Derby League www.chicagooutfitrollerderby.com under direction of our pal Jeremy (Zenson) Miget will be featured in a video in which they tear it up to one of our songs! A couple of us got to peek in at the shoot and were stricken with excitement and luckily no body parts. Stay tuned for updates! We're pretty sure it's gonna be more fun than a barrel of monkeys or even OK Go on treadmills.
Coming soon.... Amoeba Amore on vinyl! Also, check us out on AEMMP Record's new compilation, Chompilation. This September we'll be back in the studio, recording our new material, woo hoo! We hope to see you before then.
5.19.2008
NO FUN RECORDS LIMITED-TIME PROMOTION for Amoeba Amore:
Be the first in line to get your copy of our new full length record "Amoeba Amore." The first 20 orders to come in to No Fun Records will receive free Dials stuff! For detail go to: www.myspace.com/nofunrecords. To order: orders@nofunrecords.com. Hurry!
Also, don't forget to save the date, Saturday, June 28th for our Chicago release show at Double Door with Johnny & the Limelites and The Strange Young Lovers!
5.7.2008
Amoeba Amore CD soon to be out on No Fun Records!
Chicago release show is Saturday, June 28th at Double Door!
More details coming soon!
Save the date yo!
12.20.2007
Happy Winter's Eve! That's right look out the window and remind yourself that it's still Autumn and is there really anything more beautiful than Autumn in Chicago, especially on an evening like this… twinkling lumps of black slush gently urping up at your face, it's your bus gingerly greeting you at the curb which you can't make out. You fall and snap your ankle but luckily the bus continues on so you don't have to hear the sounds of laughter permeating within. If you pretend you don't hear it, does it make a sound? Of course it's piercingly loud even with the ear infection having moved on to its second ear, in truth it's probably a little more resonant than usual. I guess the real point here is, Happy Hanukkah and Merry Christmas and all sorts of good stuff to you and yours! We would love to see you and are potentially playing near you soon, especially if you live somewhere cold. We are keeping warm finishing up some "extra" tracks for Ameoba Amore incorporating ground-breaking elements i.e. 'vocals' and also 'back up vocals' … coming soon to ears near you!

Until then, consider making it out to see us play with the awesome Mannequin Men next month and also to the 3rd Annual John Glick Memorial Show at Empty Bottle February 1st, to celebrate and remember our cherished husband/friend/musician John Glick.
11.10.2007
Fall (and we're) Back! This delay was brought to you by the daylight savings time warp. We Dials now happily emerge from our giant green tube just in time to head off to Key Club Studios in Michigan. There we will meet up with engineer and good pal, Jason Ward, and complete recording of our second full-length, Amoeba Amore. AA will officially be released in April of 2008.

We are super-excited to have Milwaukee and Minneapolis around the corner, and thrilled to be ringing in the new year at one of our fave places, High Noon Saloon in Madison, WI with pals Transformer Lootbag and Screamin' Cyn Cyn and the Pons!
3.10.2007
Just like March, this news update will come in like a lion and go out like a lamb. RRRROOOOOOOAAAAARR! So it's been three months since Patti, Emily, Chad or Becky have been to the general practitioner, hair dresser, or ear doctor. None-the-less we are healthy as horses, our manes glisten, and we've been busy writing earfuls of new dials' songs. We are shoeing up (can't stop now) for Valley of the Vapors Festival in Hot Springs, Arkansas next weekend, w/ good stuff before and after (We love St. Louis!) We get to play with favorite buddies including That's My Daughter, Alex White & the Red Star Orchestra, Screamin' Cyn Cyn & the Pons and The Mathematicians in March and April. Also we're playing with mixes of the new songs and soon to be laying things down for our 2nd full-length, which if anything like our previous endeavors, will somehow end up with "Time" in the title. Share your ideas so we don't end up calling it Daylight Savings Time, though hey that happens tomorrow, so, you know.

If March turns out anything like this update, guess it will come in like a lion but become a horse for a while before going out like a lamb with a DST reminder. Bahhh! Spring forwahaaaard!

11.30.2006
This month's focus is health and beauty. Oddly enough, we recently discovered that Patti and Emily share the same GP, while Chad and Becky see the same hairdresser. So some word-of-mouth was involved, but listen, Chad and Emily have the same ear doctor and no matter what you think, that is unbelievable as there are approximately 544 ear doctors in the city of Chicago and it was strictly a coincidence. Or was it?
10.26.2006
No news is good news right? UH OH, IT'S NEWS:

Rebecca Crawford is still our bass player and lover of fine cuisine.

Emily Dennison is still our keyboard player and lover of Walgreens.

Patti Gran is still our guitar player and lover of cats. More specifically, cat dander.

Chad Romanski is still our drummer and lover.

This website is new! You likey?

Our next album will also be new, at first. It'll be out next fall. Do you like it? It is being demo-ed right now by some session musicians, meanwhile us Dials are EATING PIZZA.

Oh yeah, and our name is still The Dials. Like it? Should we rename us? Let's have a contest. Naw, we like our name, it makes us sound clean like SOAP and everyone likes that clean soap smell yeah?

We prefer SHOWER-IN-A-BOTTLE.

That wraps up the news