Bio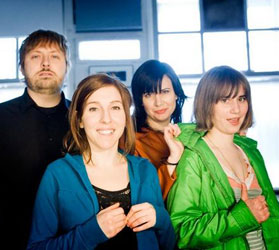 Chad Romanski: Drums
Patti Gran: Vocals / Guitar
Rebecca Crawford: Vocals / Bass
Emily Dennison: Keys / Vocals

"Chicago-based lipstick ruffians the Dials make pretty pop-punk like a soundtrack for smokin' in the girls room...." - Lisa Donnelly, CMJ New Music Monthly, Nov. 2005
"...the Dials sound like much more than the Next Big Thing. They sound like a band that just might make a contribution to the story of rock 'n' roll..." Pop Matters", November 9, 2005
"...a trashcan trawling of mid 60's Pebbles flashbacks, schizoid late 70's no wave/new wave and post punk fallouts, effervescent 80's candy pop and mid 90's girl punkall molded and finely tuned as if to sound like an acutely honed and distilled mix tape plundered from your cooler older brother's record collection." -Losing Today, November, 2005
The Dials were born when co-lead vocalists Rebecca Crawford (bass) and Patti Gran (guitar) simultaneously saved each other from their lingering and daunting search through the Chicago musician ads back in 2002. Upon meeting, an instant friendship and kinetic chemistry developed between the two as they played their prior projects for each other and discussed their mutual adoration of 60's girl-groups and 80's power pop. With the addition of a keyboardist and a drummer, they played their first show almost before they even agreed on a band name.
A few months, a drummer, and a keyboardist later, Crawford and Gran found themselves with half of the original line-up, but a quickly growing loyal fan base surrounding them. So with determination fueling their fire, they hit the pavement and recruited friend and major Dials fan Emily Dennison. Trading in her ivories for a farfisa, Dennison brought her unique 'Beethoven-gone-Devo' style to their sound. With the addition of a new drummer almost exactly at the same time, the band was back in action and recorded and released their Sick Times EP that winter 2003. Not only did the local press praise the EP, but national media also took notice of the Dials.
The Dials faced two more drummer line-up changes in late 2003 and early 2004, but without skipping a beat, they played on continuing to build their fan base with fill-in drummers while sharing the stage with bands such as, The Woggles, The Briefs, T.V. Smith, and Electrelane among others while they searched for the right permanent drummer. After having played with Crawford for years in her previous band, the puta-pons, and filling in for The Dials on occasion, their search was over when Douglas Meis officially joined The Dials in 2004. His energized, Moon-esque drum fury propelled the group along at that distinctive pace that continues to make The Dials irrepressibly danceable. The four of them stuck together like glue and recorded the band's first full length LP, Flex Time with Greg Norman of Electrical Audio (My Morning Jacket, Built to Spill ) for indie label Latest Flame during winter of 2004 at Norman's home studio located in Chicago. Local and International press continued to take notice of the Dials, with New City calling them one of "Rock City's Ten bands on the Verge" and "...the closest thing to a musical saving grace for the modern age...(Tom Lynch, New City, Nov. 18, 2005).
Sadly, on July 14, 2005, shortly before Flex Time was scheduled to be released, Dials' drummer Douglas Meis was killed in a terrible car crash by an alleged suicidal motorist along with Rebecca's husband John Glick of The Returnables, and Michael Dahlquist of Silkworm. Reeling from the sudden and tragic loss of their close friends and drummer, determination fueled a new kind of fire.
With the help of Chad Romanski (Sarge, Mirror America) on drums, the Dials were able to push forward after the incident releasing "Flex Time" as planned in November of 2005 in honor of what the Dials' believe Doug would have wanted for the band. Romanski has since officially joined the Dials and the band pushed forward with their new line-up, writing new material and sharing the stage with such bands as Psychedelic Furs, The Bell Rays, The Thermals, Tapes-n-Tapes, and The Living Things among others.
The Dials recorded their second full length album "Amoeba Amore" this winter 2008 with engineer Jason Ward at Key Club Studio in Benton Harbor, MI (Fiery Furnaces, Electrelane) which will officially be released May 26, 2008 on No Fun records.